Interior Painting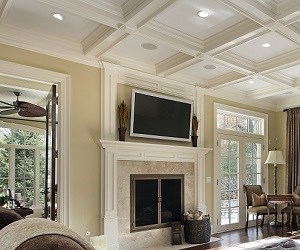 One of the most important tasks you will end up with on your to-do list is locating an expert house painter for interior painting services. This is not the type of job that you can leave to just anyone, nor is it something that you should attempt to tackle on your own. The wise decision to make is to let the experts here at Frank Demore Painting provide you with the level of essential service work that you want, need and deserve. We've been the local preferred source for interior painting in Hudson, MA and the surrounding areas for many years, and we'd love the chance to show you our expert workmanship during your house painting project.
Quality painting work can do so much for the look of your home. It truly is as close as you can get to a professional remodeling job, without the full scale, intrusive and time intensive labor. You cannot have the home of your dreams, without addressing every last detail.
Let us convert your house from ordinary to extraordinary. Whether you want to revamp the look from the previous owners, improve the appearance as a result of the walls being cosmetically compromised or just give your interior a makeover, we can help with that. Our skilled craftsmanship will completely modify the appearance of the interior of your home into something vibrant, new and welcoming.
Expert Level Interior Painting Services
Some of what makes the Frank Demore Painting team the best choice for interior painting in Hudson, MA and the surrounding areas includes:
We use only premium paints so that you get high quality looks, performance and longevity. This includes well-established name brands like Benjamin Moore and Azek.
Every job is our most important job, while we are working on it. This approach and attitude enables us to offer expert precision for all the work we do. We believe in doing it right the first time around.
We are a family owned and operated business that has been a fixture in this community since 1998. Yet our family history of professional work in the home repair business spans well over 100 years.
Our primary professional focus is on residential clients because we know how vital your home is to you. In fact, your house is your biggest and most important investment. We appreciate being a part of helping customize it.
At the end of the day, we want you to feel good about trusting us as your local painting contractor because we are dedicated to offering nothing short of total customer satisfaction.
Hire the Best Local Professional for Interior Painting in Hudson, MA & Beyond
When quality matters, as it always should for your interior painting work, let Frank Demore Painting get the job done for you. We take great pride in all the work that we do and that is evident from the results that we are able to get. Don't compromise quality in order to have affordability when you can have both with us.
If you would like an estimate for interior painting in Hudson or the surrounding areas, please call 508-598-2424 or complete our online request form.
Recent Articles
How Professional Power Washing Services Will Improve Your Home - Your Lincoln home is your biggest investment so you want to be able to take the best care of it, as possible. Keeping it looking good and free from potentially harmful contaminants is an essential part of maintenance and upkeep. Yet this is not the type of thing that you can keep up with, on your own. You need a professional contractor that offers services such as power washing in Lincoln, MA … Read More


Top Reasons to Get Professional Exterior Painting Work Done This Year - Being a Concord homeowner is an honor and a privilege. With ownership also comes great responsibility though. One of those responsibilities is making sure you keep your home looking good, inside and out. A common problem that develops though is that you become oblivious to how the exterior of your home looks, to other people. Hence the reason many homeowners invest in routine exterior painting services in Concord, MA … Read More