Popcorn Ceiling Removal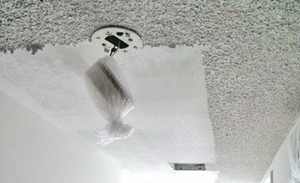 Just as many decisions, fads and phases in interior design, popcorn ceilings are one of those times that have passed. Unfortunately, leaving behind a tangible textured surface that is next to impossible to do away with. This type of ceiling surface is popular usually only in apartment buildings and rentals anymore, due to the ease of spray application. Even then, we get more and more calls for popcorn ceiling removal in Hudson, MA and the surrounding areas as the years go by.
Anyone who acquires a home that still has this antique hanging around, usually wants it gone, first thing. The problem with that is this is not a quick and easy fix and certainly not something that you should attempt to take on, as a DIY project. So what you really need to know is that the experts here at Frank Demore Painting are known for their superior quality workmanship, for this type of service work.
Expert Level Popcorn Ceiling Removal Services
The process of popcorn ceiling removal is a tiring and tedious one, especially if you do not have the proper tools and equipment to do so. The basic approach involves applying just enough moisture to soften the material for scraping away, without over saturating it. Too much moisture, a heavy hand with scraping, and you could end up causing damage to your ceiling.
So it makes more sense to let trained and experienced painting contractors handle the job for you. Some of the reasons homeowners want their popcorn ceiling gone are:
It is next to impossible to paint, so you end up stuck with the same dull white you started with. Not to mention, over time that white turns pretty dingy.
On that note, the problem with dingy popcorn surfacing is that there is also no easy or effective way to clean it. It should be avoided in rooms that are quicker to collect grime, like kitchens and bathrooms. Yet no matter where it ends up, popcorn ceilings begin to gather dust, cobwebs and other materials that you don't want lingering.
Popcorn ceilings installed prior to 1977 are at risk of containing asbestos, which is a deadly substance. If your home contains popcorn surfaces, it is important to have it checked and dealt with accordingly, in a prompt and professional manner.
Hire the Best Local Professional for Your Popcorn Ceiling Removal
For the past two decades, house painting services such as popcorn ceiling removal in Hudson and the nearby areas has been entrusted to the local leading service providers here at Frank Demore Painting. We are a family operated outfit and the family history in home repairs actually spans back for over a century. There is no need to be concerned about the level of work we carry out, you can feel confident our popcorn ceiling removal will be the best work there is.
If you would like an estimate for popcorn ceiling removal in Hudson or the surrounding areas, please call 508-598-2424 or complete our online request form.
Recent Articles
How Professional Power Washing Services Will Improve Your Home - Your Lincoln home is your biggest investment so you want to be able to take the best care of it, as possible. Keeping it looking good and free from potentially harmful contaminants is an essential part of maintenance and upkeep. Yet this is not the type of thing that you can keep up with, on your own. You need a professional contractor that offers services such as power washing in Lincoln, MA … Read More


Top Reasons to Get Professional Exterior Painting Work Done This Year - Being a Concord homeowner is an honor and a privilege. With ownership also comes great responsibility though. One of those responsibilities is making sure you keep your home looking good, inside and out. A common problem that develops though is that you become oblivious to how the exterior of your home looks, to other people. Hence the reason many homeowners invest in routine exterior painting services in Concord, MA … Read More