Superior Quality Stow Painting Contractor Services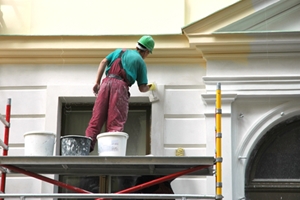 In order to track down the perfect Stow painting contractor, it starts with making sure the professional you are considering has the skills, and the products, to get the job done. Here at Frank Demore Painting we take great pride in knowing that we could never deliver the superior results that we do, without the right kind of paint.
Our work can only be as good as the products we use to complete the job. This is why we rely on materials like Benjamin Moore paints to help complete the work we do. Together, this enables us to provide you with the excellence in workmanship that you and your family deserve.
We take great pride in being able to offer services for local residential clients. This enhances the appearance, increases the value and maximizes your overall enjoyment of the home. Don't settle for less than the best when it comes to taking care of your home.
Expert House Painter in Stow
Our approach to any job, including interior and exterior house painting services in Stow, MA, is to do it right the first time. That may sound obvious but the truth of the matter is, not enough self-proclaimed professional house painter in Stow take this attitude. For many of them, good enough is just enough. We are the best team for the job because:
We have the family history and experience that continues to make us the local leading service provider. We have two decades with the family painting company name but over 100 years of family history with expert and professional home repair service.
We do not just aim to meet your expectations, our goal is always to exceed them. The bottom line is that we treat you the way that we would want to be treated, if not better.
Our customers are our friends, neighbors and fellow community members, so it is in our best interest to take the best care possible of them.
We strive for nothing less than 100% customer satisfaction. If you are paying for a service you should be able to feel confident about the outcome. This is your home and your project, we are merely there to provide you with the service required to get the work completed.
For All Your Stow Home Repairs – Call on Frank Demore Painting
Want to know what else we can help with around the house? It all depends on the type of service needs that you have.
At Frank Demore Painting we provide more than just quality painting contractor service work. If you find yourself in need of repairs and other home improvement tasks, give our experts a call.
If you are looking for a professional painting contractor in Stow, MA then please call Frank Demore Painting at 508-598-2424 or complete our online request form.