Wood Staining & Refinishing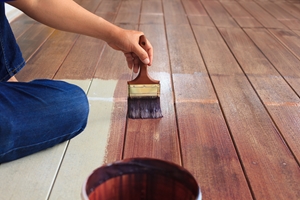 Getting high quality wood staining and refinishing work done, is the key to preserving your wood surfaces. This enhances the look but also conserves the ability for high performance and maximizes longevity. However, the thing to keep in mind about this type of work is that it must be handled by qualified industry professionals.
This is what causes so many people to make the wise decision to partner with Frank Demore Painting. When quality counts, call on the experts responsible for 20 years worth of exceptional workmanship and superior results in the house painting industry. We take this line of work seriously and it shows in the customer satisfaction rating we have earned.
We are a family owned and operated Hudson painting services company and we treat your home with the same care and precision we would our own, if not better. Don't let time and Mother Nature wreak havoc on your wood surfaces. Instead, let our team of expert house painters help salvage them for you, with professional wood refinishing and staining services.
Expert Level Wood Staining & Refinishing Services
If you are not already aware of the benefits of wood staining and refinishing, here are some important things for you to know:
Left to their own devices, without proper protection from the elements, wood surfaces will begin to rot, warp and otherwise breakdown. Once this process takes hold, you are facing either major repairs and renovation work, or the need for complete replacement. Obviously, that makes upkeep the wiser and more cost-effective alternative.
Wood surfaces, like your deck, are constantly exposed to outside conditions which are far from favorable. Even constant wear and tear from direct sunlight can cause irreparable damages. Give your wood a fighting chance by addressing the need for this all important service.
Older decks, or ones that have been neglected for some time, are likely to also require minor repairs, before deck staining or refinishing can take place. The Frank Demore Painting team has a long history of home repair service work, and can mend your wood surfaces, prior to deck refinishing or stain work.
Every detail of your home is part of your biggest and most important investment. Don't accept inferior workmanship or, even worse, let any aspect of your home become rundown. Call the painting contractors you can trust at Frank Demore Painting to schedule quality refinishing work and wood staining services for the wooden surfaces throughout your home.
Hire the Best Local Painters for Wood Staining & Refinishing in Hudson
Together, we can improve upon and preserve your wood surfaces with quality wood staining and refinishing work. Our main goal is to provide you with the superior workmanship that you need for the best possible outcome for your project. No matter what the project is, your satisfaction is our number one priority.
If you would like an estimate for wood staining or wood refinishing in the Hudson area, please call 508-598-2424 or complete our online request form.
Recent Articles
How Professional Power Washing Services Will Improve Your Home - Your Lincoln home is your biggest investment so you want to be able to take the best care of it, as possible. Keeping it looking good and free from potentially harmful contaminants is an essential part of maintenance and upkeep. Yet this is not the type of thing that you can keep up with, on your own. You need a professional contractor that offers services such as power washing in Lincoln, MA … Read More


Top Reasons to Get Professional Exterior Painting Work Done This Year - Being a Concord homeowner is an honor and a privilege. With ownership also comes great responsibility though. One of those responsibilities is making sure you keep your home looking good, inside and out. A common problem that develops though is that you become oblivious to how the exterior of your home looks, to other people. Hence the reason many homeowners invest in routine exterior painting services in Concord, MA … Read More