Wayland Area Wallpaper Removal Services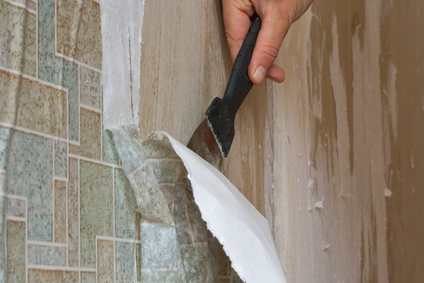 If you prefer clean, sleek walls instead of old wallpaper you can't possibly decorate around, let us help you remove it. Getting rid of it will really make a difference in how you feel about your home.
Unfortunately, wallpaper doesn't always peel off the wall nicely. Instead, you wind up with damaged drywall and strips that refuse to come off, resulting in the need for more repairs. A professional wallpaper removal service makes the task easy and simple.
Frank Demore Painting is available to help you take down your old, unwanted wallpaper. We take on large or small projects from Hudson to Wayland and many other communities nearby.
Family owned & operated
100% satisfaction guaranteed
High level of quality service
Upfront pricing
Painting services in eastern MA since 1998
Expert wallpaper removal
Safe, Expert Wallpaper Removal
When removing wallpaper, the surfaces underneath can become damaged if the right procedures are not taken. It's important to know the right process for the particular type of underlying surface and the type of wallpaper being removed.
With Frank Demore Painting, you will have experienced contractors who know how to safely remove the old paper without damaging the surface unnecessarily. If in the rare case where damage can't be avoided, our skilled painters are able to repair the drywall, woodwork, or textures properly right there on the spot.
Let us schedule a consultation where we can examine the area and provide our expert advice. You'll always get more with Demore!
Wallpaper removal
Carpentry repairs
Texture repair
Painted Over Wallpaper Removal & Other Difficult Jobs
It's unfortunate to inherit other people's messes, but sometimes we do. Many times, there is old wallpaper that has been painted over. Sometimes there are several layers of paint. Sometimes we even find wallpaper glued onto wood or stucco.
This was likely done to save money, which is understandable. But now the wallpaper and the paint have to go because it's all starting to peel away at edges or the wallpaper seams are showing through.
If there is painted-over wallpaper in your home that needs removal, our pros can handle the job. You can count on our extensive industry experience whether it's wallpaper removal or any other service.
If you would like an estimate for Wallpaper Removal service in Hudson, Wayland, or the surrounding areas, please call 508-598-2424 or complete our online request form.
Recent Articles
How Professional Power Washing Services Will Improve Your Home - Your Lincoln home is your biggest investment so you want to be able to take the best care of it, as possible. Keeping it looking good and free from potentially harmful contaminants is an essential part of maintenance and upkeep. Yet this is not the type of thing that you can keep up with, on your own. You need a professional contractor that offers services such as power washing in Lincoln, MA … Read More


Top Reasons to Get Professional Exterior Painting Work Done This Year - Being a Concord homeowner is an honor and a privilege. With ownership also comes great responsibility though. One of those responsibilities is making sure you keep your home looking good, inside and out. A common problem that develops though is that you become oblivious to how the exterior of your home looks, to other people. Hence the reason many homeowners invest in routine exterior painting services in Concord, MA … Read More