Cabinet Refinishing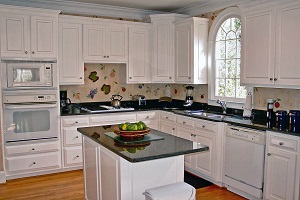 Frank Demore Painting is proud to be the local leading service provider for cabinet refinishing in Hudson, MA and the surrounding areas. We take great pride in all the work that we do, and cabinet refacing is no different. Every job that we take on is our best work, and that is guaranteed.
Cabinet resurfacing is a popular alternative to replacing cabinets, usually as part of a kitchen remodeling job. The process involves renovating the existing cabinets by restaining them for a fresh new look. Even if you opt for the same look and color, this helps give the appearance of all new cabinets and prolongs the lifespan.
However, this is not the type of project that just anyone should be entrusted with. It takes a skilled and experienced painting and carpentry specialist to handle this type of job. Let our painting contractors provide you with the high quality results that you want, need and deserve.
Expert Level Cabinet Refinishing in Hudson, MA & Nearby
When deciding if cabinet refinishing is right for you, here are some things to keep in mind:
As you probably guessed, even superior quality cabinet refinishing is more cost-effective than replacement. You can make a very financially savvy decision, by opting for refacing and saving money on your overall kitchen remodeling project. This is an especially great choice when the existing cabinets are still in excellent condition.
As more homeowners become concerned about being more green, it makes sense to want to reduce waste. This is a way to recycle or reuse, without even having to remove the cabinets. Producing less waste is a great way to make an environmentally responsible choice.
This is also a much less complicated approach to the task at hand. Ripping out the existing cabinets and installing new ones is a complex and time consuming task. Refinishing can be done without getting in the way of other tasks being taken care of and completed in much less time.
When we meet with you, to discuss your cabinet refinishing job, we can tell you more about how you benefit from making this decision. The bottom line is our experts will help you determine if this would be the best course of action for your cabinets.
Hire the Best Local Professional for Your Cabinet Refinishing
For painting services such as cabinet refinishing in Hudson, MA and the surrounding areas, the name to call on is Frank Demore Painting. We offer only the finest in quality results by investing topnotch workmanship and utilizing superior products.
We can restore and improve your cabinets, leaving them looking as good as new – if not better. Give us a call today and let's tackle your cabinet refacing project.
If you would like an estimate for cabinet refinishing in Hudson or the surrounding areas, please call 508-598-2424 or complete our online request form.
Recent Articles
How Professional Power Washing Services Will Improve Your Home - Your Lincoln home is your biggest investment so you want to be able to take the best care of it, as possible. Keeping it looking good and free from potentially harmful contaminants is an essential part of maintenance and upkeep. Yet this is not the type of thing that you can keep up with, on your own. You need a professional contractor that offers services such as power washing in Lincoln, MA … Read More


Top Reasons to Get Professional Exterior Painting Work Done This Year - Being a Concord homeowner is an honor and a privilege. With ownership also comes great responsibility though. One of those responsibilities is making sure you keep your home looking good, inside and out. A common problem that develops though is that you become oblivious to how the exterior of your home looks, to other people. Hence the reason many homeowners invest in routine exterior painting services in Concord, MA … Read More