How Professional Power Washing Services Will Improve Your Home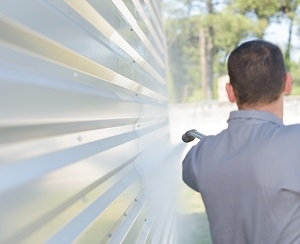 Your Lincoln home is your biggest investment so you want to be able to take the best care of it, as possible. Keeping it looking good and free from potentially harmful contaminants is an essential part of maintenance and upkeep. Yet this is not the type of thing that you can keep up with, on your own. You need a professional contractor that offers services such as power washing in Lincoln, MA.
You cannot get the same high quality results with pressure washing that trained and experienced experts get with power washing in Lincoln. The lower pressure system you can buy or rent from your local home improvement retailer is not the same thing. If you are not yet convinced about the importance and benefits of professional exterior house washing, it is time to learn a little more.
Benefits & Advantages of Power Washing Services
If it has been a while since you last had your exterior cleaned, here are some of he benefits that you should be aware of:
The most obvious perk to getting a professional pressure cleaning job by your local painting contractor is this will enhance the overall look of your home's exterior. Not just the siding or roof but the surrounding areas like the walkways and driveway. That means improved curb appeal and the ability to better make a first impression.
Cleaning away the buildup of certain substances can also help prevent repair needs. Dirt, algae, mold and even bird droppings that collect over time can begin to wear down your home's exterior. Wipe the slate clean with a expert-grade pressure washing and lower the likelihood of the need for repairs or replacement.
This is also an important step in helping promote better health and well-being. Removing the buildup of substances like dust, mold and pollen mean the interior of your home will be healthier too. This is especially important for any homes that have someone living inside that suffers from allergies or asthma.
Did you know that a professional power washing even helps increase the overall property value of your home? Believe it or not, getting the exterior of your home expertly cleansed can raise the value of your home as much as $15,000.
The Name to Know
Smart homeowners know that the name to rely on, for high quality power washing service work, is Frank Demore Painting. We do so much more than just painting, we offer a long list of important residential services intended to improve your home.
We are a family owned operation and believe in going above and beyond, when it comes to offering good customer care. Give us a call today so that we can get started working on your exterior cleaning.
Would you like to schedule power washing in Lincoln, MA? Call 508-598-2424 or complete our online request form.