Exterior Painting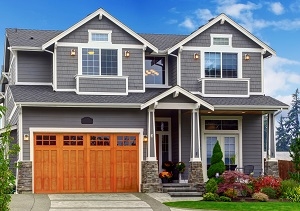 One project that has the biggest impact on a home's curb appeal is exterior painting in Hudson and the surrounding areas of Massachusetts. No amount of landscaping, patio work or outdoor lighting comes close to the effect your painting work has. In fact, quality house painting is what helps these other additional features really gain the visual appreciation they deserve.
In order to get that quality workmanship, it means hiring the right local experts house painters for the job. Homeowners here count on Frank Demore Painting because "You Get More With Demore." For 20 years now, our experts have been providing quality results for our residential clients.
We are a family owned and operated business, so you can feel confident about the level of commitment and superior workmanship our painting contractors will invest into every job we take on, including yours. We are the preferred local house painter for a number of reasons, and look forward to working with you on your painting job. Get in touch with us today, so we can begin working on your house painting project.
Expert Level Exterior Painting Services
What makes a Frank Demore Painting job for the exterior of your home the best work around?
We take extra precautions in order to safeguard the surrounding areas, before starting any painting services. There is no excuse or reason for leaving visual traces of our paint work, on your shrubbery, walkways or even lawn.
One of the key elements of a house painting job is the initial preparation work, which often entails making minor repairs to the exterior of the structure. Some house painters in the Hudson area skip right over this completely, in an effort to save time and maximize profit. However, not only do we address this need, as skilled home repair pros, we masterfully execute this task.
The products we work with for exterior painting in Hudson and the surrounding areas are always the finest, so the results are just as choice. No matter how good we are as painters, our finished project can only be as good as the materials we utilize. We rely on reputable name brands like Benjamin Moore, and can also use eco-safe products for the work.
The Best Local Professional for Exterior Painting in Hudson & Nearby
At Frank Demore Painting, we are in the business of transforming your current house into the home of your dreams. Part of this process does entail the exterior painting work that goes into it.
Since 1998, our name has become synonymous with high quality workmanship and superior results. We look forward to tackling your exterior painting project and showing you just how good your home can look. Stop procrastinating when we can start improving the curb appeal of your house, immediately.
If you would like an estimate for exterior painting in Hudson or the surrounding areas, please call 508-598-2424 or complete our online request form.
Recent Articles
How Professional Power Washing Services Will Improve Your Home - Your Lincoln home is your biggest investment so you want to be able to take the best care of it, as possible. Keeping it looking good and free from potentially harmful contaminants is an essential part of maintenance and upkeep. Yet this is not the type of thing that you can keep up with, on your own. You need a professional contractor that offers services such as power washing in Lincoln, MA … Read More


Top Reasons to Get Professional Exterior Painting Work Done This Year - Being a Concord homeowner is an honor and a privilege. With ownership also comes great responsibility though. One of those responsibilities is making sure you keep your home looking good, inside and out. A common problem that develops though is that you become oblivious to how the exterior of your home looks, to other people. Hence the reason many homeowners invest in routine exterior painting services in Concord, MA … Read More