Carpentry & Drywall Repairs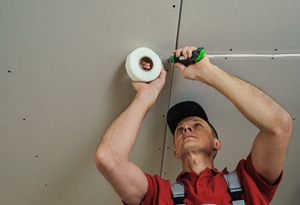 While our expert painting contractors here at Frank Demore Painting have earned an impeccable reputation for professional painting services in the Hudson area, you should know we offer much more than that. Our company name has been providing quality service since 1998 but our family history in the home repair industry spans back over 100 years. Your home is your biggest and most important investment, so you want to be able to take the best care of it, as possible. That's why we offer a variety of home improvement services such as carpentry and drywall repairs in Hudson, MA and the surrounding areas.
Too many homeowners make the mistake of letting to-do tasks like this slide. Not only do they look bad, they diminish the overall value of your home. Left untreated, over time, these repair needs can actually grow worse. There is no reason to let it get to this point, when all you have to do is call on our pros to handle the job for you.
Expert Level Drywall & Carpentry Repairs Services
Each type of material has its own kind of potential problems. Let's review some of the more common issues that can arise with your home's drywall and woodwork:
From the moment that you move into your home, your walls and other surfaces are at risk of damage. In fact, just the process of moving in alone can lead to issues like holes.
Settling can lead to problems as well. It is important to have issues like cracks checked out by a professional to make sure it is not something more serious than settling. Plus, it is vital to make sure that these blemishes are cosmetic and not posing a threat to the structural integrity of your house. Otherwise, they can as simply be filled in and your walls will look as good as new.
Nail pops are a common problem with drywall. The good news is that this is a relatively easy fix, for a seasoned pro. Don't settle for walls that have imperfections when we can make them as good as new again, if not better.
For carpentry, one common ailment is cupping, which is caused by moisture. In fact, a number of imperfections can be caused by moisture. Make it a point to address wood problems quickly, before it leads to rot.
Whether your trim and molding needs a little TLC or you are looking for a professional to tackle drywall repairs in Hudson, our team of house painters are happy to address your home repair needs. Just give us a call to get started with a free estimate!
Hire the Best Local Professional for Carpentry & Drywall Repairs in the Hudson Area
At Frank Demore Painting, we take great pride in the work that we do and the satisfaction level we achieve for our clients. When you find yourself in need of a professional to address your need for drywall and carpentry repairs, all you have to do is give us a call. Our top priority is providing you with the expert level of services you need and the quality of results that you deserve.
If you would like an estimate for carpentry work or drywall repairs in the Hudson area, please call 508-598-2424 or complete our online request form.
Recent Articles
How Professional Power Washing Services Will Improve Your Home - Your Lincoln home is your biggest investment so you want to be able to take the best care of it, as possible. Keeping it looking good and free from potentially harmful contaminants is an essential part of maintenance and upkeep. Yet this is not the type of thing that you can keep up with, on your own. You need a professional contractor that offers services such as power washing in Lincoln, MA … Read More


Top Reasons to Get Professional Exterior Painting Work Done This Year - Being a Concord homeowner is an honor and a privilege. With ownership also comes great responsibility though. One of those responsibilities is making sure you keep your home looking good, inside and out. A common problem that develops though is that you become oblivious to how the exterior of your home looks, to other people. Hence the reason many homeowners invest in routine exterior painting services in Concord, MA … Read More