Deck Painting, Staining, & Refinishing Services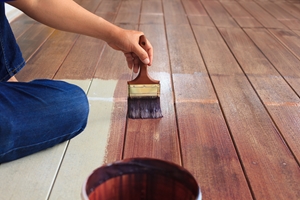 Frank Demore Painting offers professional deck painting, staining, and refinishing services. We serve many communities including Hudson and other areas of Eastern Massachusetts.
There's nothing more marvelous than a beautiful deck. It adds style as well as function to the exterior of a home. It was also quite an investment as some point in time. With waterproofing and regular maintenance, a deck can last for decades.
Whether it's a pool-side deck, front or back deck, wrap around deck, or workshop deck, protecting the wood is important. Our climate can be really harsh on wood whether it's pressure treated, painted, or stained.
The beautiful wood that you fall in love will at some point need to be refinished. Whether your new deck needs painting or staining, or you have a deck that needs refinishing, call Frank Demore Painting for service.
Our expert Hudson painting contractors offer a full line of professional services. We have always made it a point to provide great rates and friendly services.
Let us help you choose the perfect stain and finishes for your new deck or restore your deck to its original beauty. We are highly skilled with wood finishing, so we can help you no matter what type of wood your deck is made of.
Deck Painting, Staining, & Refinishing Since 1998
Reputable & Local Family Owned & Operated Business
Customers Are Our #1 Priority
Wide-Range Of Hudson Painting Services
Quality Brand-Name Paints & Stains
Eco-Safe Green Products
Professional Deck Painting
So you've had a new deck constructed and now it needs to be finished. Should you paint it or stain it? Should you use a clear finish or paint it a solid color? Sometimes it's not easy to know which choices to make.
Deck painting offers you the opportunity to choose the exact right hue, tone, and shade to go with your home.
If you are planning to paint your deck in Hudson, let us do the work for you. This way, the project lasts for as long as possible and you know you have a quality finish that truly protects the deck.
Deck Staining Services
Deck staining can show as much of the wood grain and color as you wish. The protective finish applied after staining seals it from moisture. Sometimes it's not easy to choose what stain color to use, or how much of the natural beauty of the wood to show through.
Not to worry, we can help you find the perfect deck stain to showcase the wood and go with your home's exterior. Whether you have an exotic hardwood deck or plain and simple pressure treated wood, it will look fabulous with our quality deck staining service.
Deck Refinishing Service
Restoring your old, weathered deck takes a lot of work. To bring it back to life again, you'll want to be sure your deck refinishing contractor in Hudson has the experience to work on all wood types successfully.
From recognizing and knowing what type of wood species it is to how to finish it best, an experienced contractor provides the best results. If you are ready to breathe new life into your deck, you can count on Frank Demore Painting for beautiful, long-lasting results.
If you would like an estimate for Deck Painting, Staining, or Refinishing services in Hudson or the surrounding areas, please call 508-598-2424 or complete our our online request form.
Recent Articles
How Professional Power Washing Services Will Improve Your Home - Your Lincoln home is your biggest investment so you want to be able to take the best care of it, as possible. Keeping it looking good and free from potentially harmful contaminants is an essential part of maintenance and upkeep. Yet this is not the type of thing that you can keep up with, on your own. You need a professional contractor that offers services such as power washing in Lincoln, MA … Read More


Top Reasons to Get Professional Exterior Painting Work Done This Year - Being a Concord homeowner is an honor and a privilege. With ownership also comes great responsibility though. One of those responsibilities is making sure you keep your home looking good, inside and out. A common problem that develops though is that you become oblivious to how the exterior of your home looks, to other people. Hence the reason many homeowners invest in routine exterior painting services in Concord, MA … Read More