Home Remodeling For Value And Comfort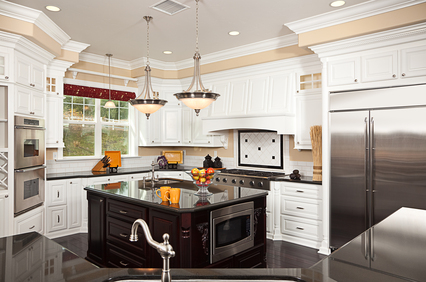 Home remodeling fixes those annoying features while incorporating those you love. With this goal in mind, the home becomes more valuable to you and others. Whether the plan is to renovate the entire interior or just remodel the kitchen and bathrooms, you will need a home remodeling contractor who can help you achieve all your goals. Frank Demore Painting can help you improve your home for long-term value and comfort.
Our Massachusetts home remodeling contractors and painters offer a wide range of services to help you update your home. Since 1998, we have been improving and repairing homes throughout eastern Massachusetts. Here are some of the common problems we can help you solve.
Home Improvement With Green Eco-Safe Products
If remodeling with eco-safe green products is important to you, Frank Demore Painting has you covered. Volatile Organic Compounds (VOCs) are found in many home remodeling products such as carpeting, paint, adhesives, sealants, and other materials. There are many non-toxic products on the market today that we can use instead. Just connect with us and let us know that you are interested in green remodeling.
Outdated Flooring
One of the most used surfaces in a house is the flooring. This should be one of the most important things to consider when remodeling your home for increased value and comfort.
Whether the carpets have seen the last infuriating wine spill or the dog had another accident on the old hardwood floors, we understand taking care of things this because we have families and pets too. A house isn't a home unless it's lived in - right?
Let's get rid of that outdated flooring and install something that's more durable. There's a world of options out there that we can help you with.
Repair Carpentry & Drywall Damage
Whether it's in the kitchen, bathroom, hallway or living room, all the little carpentry repairs and drywall repairs need to be done. Our home remodeling contractors will take care of these surface imperfections so the finished results look perfect.
Repaint Scuffed Up & Faded Walls
It's pretty amazing how quickly stains show up on the walls. Even just moving into a home can scuff them up. Over time, the paint fades and that glorious design has long ago faded to dullness.
A fresh coat of primer and paint in your choice of colors will go a long way to improving how you feel about the home. Painting is the final part of a very satisfying home remodeling project.
Replace Old Countertops In Kitchen & Bathrooms
Does that old Formica countertop have to go? Old countertops can really bring down the aesthetic value of a home. If you are remodeling the kitchen or bathrooms, replacing the old countertops with contemporary materials will make a big difference. Painting and refinishing the cabinetry is another way to make a big impact more affordably during kitchen and bathroom remodeling.
Update Old Fixtures
Whether it's the lighting that's outdated or it's the plumbing fixtures, replacing them during remodeling is a good idea. Removing and replacing the old tub, shower, sinks, toilet, hardware, faucets, and other fixtures will definitely make the home more comfortable and valuable. This is another important aspect of any home improvement project that our skilled remodeling contractors will help you with.
If you would like more information about our Home Remodeling Service in Hudson, MA or the surrounding areas, please call 508-598-2424 or complete our online request form.
Recent Articles
How Professional Power Washing Services Will Improve Your Home - Your Lincoln home is your biggest investment so you want to be able to take the best care of it, as possible. Keeping it looking good and free from potentially harmful contaminants is an essential part of maintenance and upkeep. Yet this is not the type of thing that you can keep up with, on your own. You need a professional contractor that offers services such as power washing in Lincoln, MA … Read More


Top Reasons to Get Professional Exterior Painting Work Done This Year - Being a Concord homeowner is an honor and a privilege. With ownership also comes great responsibility though. One of those responsibilities is making sure you keep your home looking good, inside and out. A common problem that develops though is that you become oblivious to how the exterior of your home looks, to other people. Hence the reason many homeowners invest in routine exterior painting services in Concord, MA … Read More