Skilled Winchester Painting Contractor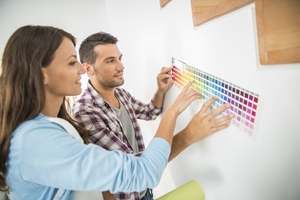 When it comes to high-quality painting services here in the Winchester area, Frank Demore Painting is the local painting contractor you can trust to deliver the high-quality results you're looking for. Whether the project you have in mind for your home is fairly ambitious, or you're just looking for some touch-ups in a few problem areas around your house, our team of skilled Winchester painting pros are the team you can trust to get the job done right. Are you looking for a professional Winchester painting contractor you can trust to help you with all of your home's painting needs? If so, give our team of skilled professionals a call today and let us show you the kind of quality results that have helped make us the most trusted name in high-quality painting services the area has to offer.
Here at Frank Demore Painting, we understand how important paint is to the overall beauty, appeal, and comfort of your home, and we want to do everything in our power to make sure you get the kind of quality results you need from your painting project to maximize those attributes. We specialize in a wide variety of high-quality painting services, so whether you're looking for high-quality interior painting, exterior painting, or even cabinet refinishing services, you can count on our team of skilled pros to provide you with what you need. If you have any questions about our full line of high-quality painting services, or if you'd like to schedule an appointment for a consultation, give us a call today. Our team of experts is standing by and ready to assist you.
Bring New Life To Your Winchester Home With Interior Painting
Interior painting is a safe choice if you're looking for a quick, simple, and affordable approach to enhance the environment within your house. It's easy to improve the interior appearance of your Winchester home and make it more enjoyable for your family and guests by giving the interior of your home a brand-new coat of paint. Give our team of experienced house painters a call today to let us assist you start your project if you have an interior painting job in mind or are simply searching for some more ideas.
Winchester House Painters You Can Trust
A fresh coat of paint may be an excellent way to revitalize the overall appearance and feel of your home. Not only is the procedure quick, but it is also a low-cost option to increase the beauty and value of your property. If you're ready to give your home a new appearance with a fresh coat of paint, give our expert house painters a call now and let us assist you in getting started.
If you need a professional Massachusetts painting contractor in Winchester, MA, please call Frank Demore Painting at 508-598-2424 or complete our online request form.