Professional Wellesley Painting Contractor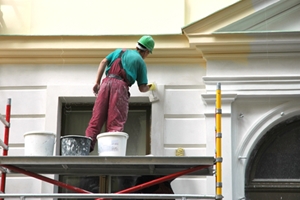 If you are searching for a qualified Wellesley painting contractor, Frank Demore Painting is here to help. At Frank Demore Painting, we know how important it is to make sure your home improvement project is done right the first time. With each job we take on, we aim to surpass our customers' expectations. Frank Demore Painting has been an established local leader in painting services and other home improvement projects for 20 years, so you can feel confident that we will have the know-how to turn your home improvement goals into a reality. Whether you are looking for talented experts to help you with paint stripping, house painting, cabinet refinishing, or another of the many services we offer, you will be pleased with the service we provide.
Wellesley Wallpaper Removal
Does your Wellesley home have outdated wallpaper left over from a by-gone era? Have you decided to redecorate but the wallpaper you have doesn't complement your décor? Whatever the reason, if you need wallpaper removed, call the Wellesley wallpaper removal experts at Frank Demore Painting to get started today. It may seem like an easy task, but removing wallpaper can be quite difficult and even possibly damaging to your walls. Removing wallpaper is best left to the professionals, so do not risk a DIY disaster. Instead, trust our knowledgeable team to help you so that that your wallpaper is safely removed without any hassle or fuss!
Wellesley Deck Painting, Staining, and Refinishing
A beautiful deck can be the centerpiece of your Wellesley yard. However, in order to enjoy your deck for years to come, you must make sure that the wood is protected from the elements. If your deck's finish is getting worn with age, it may be due for a professional refinishing. If you have a new deck that needs to be painted or stained for the first time. Whatever the needs of your deck, trust the Wellesley Deck staining and refinishing experts at Frank Demore Painting to make sure they are professionally handled.
Wellesley Interior and Exterior Painting
At Frank Demore Painting, we know how important it is that your home or business has a long-lasting and beautiful paint job, inside and out. As your leading local Wellesley painting contractor, we take pride in exceeding our customers' expectations. We aim to leave every customer extremely satisfied with our services. House painting is our specialty, so if your home needs new exterior or interior paint our qualified team would love to help you reach your goals.
Wellesley Drywall Repair
If you have unsightly cracks or holes in your drywall, do not despair! Our team has the expertise and knowledge to help you restore your walls to top condition. Repairing blemishes in your walls can make your home feel much newer and more appealing. If you are thinking about listing your house, be sure that any problems with your drywall or carpentry are repaired first so you can make the best possible impression on buyers.
Wellesley Window Cleaning
The exterior of your Wellesley home gets constant exposure to the elements outside. Your windows are no exception. The rain, snow, and wind carry bits of dirt and debris that stick to your home. Evidence of this dirt and grime is especially noticeable on your glass windows. Left to sit, the grime forming on your windows can make them look dingy, detracting from your home's curb appeal. Worse, dirty windows can become damaged over time by mold and debris. However, cleaning your windows can be tricky and sometimes even dangerous. If you have a two or more story building, washing windows on the upper floors can be risky without the right knowledge and equipment. Luckily, our team has plenty of experience with window cleaning. Our experts will work diligently to ensure that all of the windows on your home are spotless.
In addition to the services listed here, our team can help you with power washing, popcorn ceiling removal, floor installation, and more! As a local leader in home improvement, our number one priority is our customer's full satisfaction. If you need a Wellesley painting contractor to help you update and refresh your home, contact the qualified experts at Frank Demore Painting.
If you need a professional Massachusetts painting contractor in Wellesley, MA, please call Frank Demore Painting at 508-598-2424 or complete our online request form.