Middlesex County Painting Services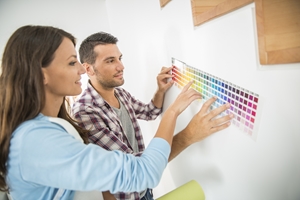 Frank Demore Painting provides Middlesex County painting, remodeling, and water/fire restoration services to local homeowners. We offer a wide range of professional services that relate to improving your home. Everything from deck staining and refinishing to remodeling the kitchen and bathrooms are no problem for our professional contractors.
Our professionals are dedicated to providing our customers the highest-quality service. That's why we're always saying, "You get more with Demore!"
Vibrant Color For A Fresh New Home Interior
Interior paint can really freshen the house with vibrant new color. Whether you want something bold or something simple and elegant, painting is a great way to bring about change and lighten the mood. If you are tired of the dull and boring paint inside your home, now is the time to make the change.
Our professionals know all about paint interiors so we can help you choose colors. We make sure to properly apply the paint no matter what type of surface we are painting. You can count on proper surface preparations and our ability to take care of the trimwork. If you are interested in achieving a long-lasting beautiful finish, call our experts today for a great competitive quote.
Protect the room with dropcloths & tape
Repair the drywall
Repair trimwork if needed
Use quality primer
Apply durable paint
Prepare the surfaces properly
Use quality sealant
Clean the work area
Inspect the results
Make sure you're satisfied
Does Your Home's Exterior Need Some Work?
It is not uncommon for a Middlesex County home to involve a lot of detail work when painting. Painting decorative features or unusual materials can take a long time to paint, especially for someone who isn't experienced. Some light carpentry work may also be needed in some cases. This is not the type of work that should be left up to an inexperienced painter.
Choose Frank Demore Painting for exceptional exterior paint work in Middlesex County and beyond. We will take care of everything and will prepare the surface properly before applying your new paint.
If you need a professional Massachusetts painting contractor in Middlesex, MA, please call Frank Demore Painting at 508-598-2424 or complete our online request form.