Superior Quality Melrose Painting Contractor Services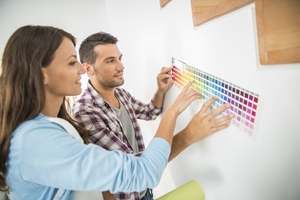 Looking for a reputable Melrose painting contractor but not sure who to call on? If you have never had a reason to find a local residential house painter, then it may suddenly seem like an overwhelming task. The good news is that you have come to the right place because our pros here at Frank Demore Painting deliver the best in quality workmanship, customer service and exceptional pricing.
Too many homeowners mistakenly think they need to choose between quality results and affordable pricing. Yet, by making the wise decision to work with us, you get the best of both worlds. You should never sacrifice one or the other, just to get your painting service taken care of.
With over two decades of hands on expertise, you can feel confident about the level of workmanship we will provide you with for a variety of home improvement services, including interior and exterior painting in Melrose, MA. Our family history of expert home repair work actually dates back over 100 years. The bottom line is that when you want choice work, "You Get More With Demore."
Expert House Painter in Melrose
What makes one house painter in Melrose, MA better than another? There are lots of reason why our team is the top choice, for interior and exterior house painting services like:
We use only the finest in quality products. No matter how skilled our painters are, we know we are only as good as the materials we use. We rely on exceptional industry names, like Benjamin Moore, to help us complete the job. When you pair up superior workmanship with superior products, your results can be nothing less than the best.
We invest the proper amount of preparation work required to deliver exceptional results. This is the work that goes into making sure that the surfaces are in the right condition to be painted. Some so-called pros try to bypass this essential step to save time and get the job done. That means painting over things like rotting wood or other blemishes that could compromise the structural integrity of your exterior.
We are genuinely concerned with your satisfaction. As a family run business, our clients are our friends, neighbors and fellow community members. It is in our best interest to take care of them beyond the best of our ability.
For All Your Melrose Home Repairs – Call on Frank Demore Painting
We are also the only painting contractor that you need to know when it comes to a variety of home improvement services and repairs. We offer popcorn ceiling removal, window cleaning and drywall repairs – just to name a few. The same Frank Demore Painting name that you know and trust for interior and exterior painting is the same one you can count on for all your service needs.
If you are looking for a professional painting contractor in Melrose, MA then please call Frank Demore Painting at 508-598-2424 or complete our online request form.