Superior Quality Everett Painting Contractor Services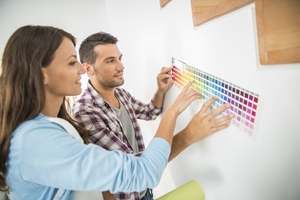 There are plenty of reasons why Frank Demore Painting is considered the local leading service provider for Everett painting contractor services. Of course, we realize that anyone who has not already worked with us may not be familiar with these reasons, so let us review a few with you. For one thing, we are the established local leader because we have been in business since 1998, and plan to continue to stick around for years to come. Our painters make it a point to go above and beyond, when it comes to addressing the service needs of our clients. Above all else, we take great pride in the work that we do and that is evident from the customer approval rating we have. Don't just take our word for it, let us show you in person how much of a difference it makes to truly get quality workmanship.
Expert House Painter in Everett
The work we do is meant to help transform your current house into the home of your dreams. We take this line of seriously and enjoy being a part of helping so many locals truly put the finishing touches on their home. Even if you are merely freshening up the color you already have, it will do a world of good and make a world of difference.
The important thing is that you do not settle for inferior workmanship or attempt to DIY this type of task. You will be disappointed with the outcome and this is simply too important a project to feel let down about, when it comes to the final results. Let us provide you with the best in workmanship and personalized customer care, all for a more than affordable price.
For All Your Home Repairs and More – Call on Frank Demore Painting
Don't let the name fool you though, at Frank Demore Painting we do more than just painting. Some of the other tasks that we can take care of for you include:
Cabinet Refinishing – Why replace your cabinets when you can let us professionally refinish them for you? The final results that we provide will help feel as though you've had your entire kitchen remodeled.
Drywall Repairs – You can't paint walls that are in need of repairs. But why hire someone else to take care of this take when the team that will be painting your walls can handle it for you?
Popcorn Ceiling Removal – Sometimes it is not about putting on the paint, it is about taking off the surfacing material. Popcorn ceilings not only look outdated, they can pose a very real health threat if they still contain asbestos.
Floor Installations – If you are renovating your home, you are probably going to also need to take care of the flooring, as well. Let our team provide you with skilled service for your flooring install so you can enjoy years of peak performance and optimal longevity.
Window Cleaning – We offer a full line of exterior cleaning services, including windows. Your windows will look as good as new, if not better, once we get done with them.
Wallpaper Removal – Too many homeowners attempt to make this a DIY project, only to end up disappointed with the results. About an hour into the job you will realize you are in over your head, so why not call us before that moment instead of after?
We are ready and willing to take on just about any type of home improvement work that you could need. Our job is to provide you with the service you require and our goal is to do so in a manner that ensures that you are 100% satisfied. Let us help you finally finish the touches that will complete the home of your dreams.
If you are looking for a professional painting contractor in Everett, MA then please call Frank Demore Painting at 508-598-2424 or complete our online request form.