Outstanding Dracut Painting Contractor Services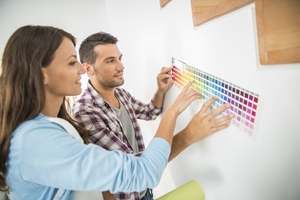 Whether you are looking for the services of a professional Dracut painting contractor or help with your home improvement projects, the experts at Frank Demore Painting can help. With over 20 years of experience with home improvement and painting services, we pride ourselves on our superior workmanship and customer service.
Dracut Paint Stripping
Paint stripping is the first step in many refinishing and repainting projects. Whether you want to expose the natural wood underneath a painted surface or simply remove and replace old paint, paint stripping is an essential part of the process. Skipping this step, or doing it improperly can undermine the quality of the finished project. In order to prevent problems down the road, hire a professional to ensure that your furniture or wall is properly stripped the first time. With years of expertise in professional painting projects, Frank Demore Painting can ensure that you receive the highest quality paint stripping services.
Dracut House Painting
For two decades we have offered professional house painting services. During that time, we have earned a reputation for being a high-quality painting contractor in the Dracut, MA area because of our commitment to excellent work and outstanding customer service. We know how important it is that your belongings are protected during a painting project, so we take every precaution to make sure that paint never ends up on your floors or furniture. We select quality paint products to provide a long-lasting and beautiful painted finish on your house. Whether you need interior or exterior painting service, Frank Demore Painting can tackle any Dracut painting project.
Dracut Window Cleaning
Over the years, the elements can really take a toll on the exterior of your home. Snow, rain, and wind all leave traces of dirt and grime on your home. Over time, that accumulated dirt can detract from the appearance of your home. Evidence of this dirt and grime is especially noticeable on your glass windows, making them look dingy and unattractive. Even worse, grimy windows can become damaged over time by a build up of mold and debris. In order to avoid damage and decay, it is best to make sure the windows on your Dracut home are periodically cleaned. However, cleaning your own windows can be difficult, or even dangerous. If you have multi-story building, washing windows on the upper floors can be dangerous or even impossible without the right knowledge and equipment. Rather than risk the hassle and danger, leave it to the professionals at Frank Demore Painting to safely, thoroughly clean your windows!
Dracut Gutter Cleaning
Clogged gutters may seem like a minor inconvenience but left alone, your clogged gutters can lead to major problems. If your gutters are unable to work properly, then rain water can pool in your gutters, potentially causing damage to your roof. Additionally, bugs and other pests are likely to use your clogged gutters for nesting and breeding, which could lead to an infestation in your home or on your property. If rainwater is not drained properly from your roof, it can spill over and pool near the foundation of your home. This can be especially damaging during winter, when the water can freeze and put stress on your foundation. If your Dracut gutter has already become clogged with leaves and debris or if you just want to schedule a routine cleaning, we can help with that. Our team is happy to handle your gutter cleaning needs.
Dracut Flooring Installation
Among the many home improvement options we offer, floor installation is a great one that can really add value and appeal to your home. If your Dracut property has outdated, cracked, or worn flooring, let our team at Frank Demore Painting help! We offer prefinished wood flooring in several appealing finishes. Alternatively, you can choose from the many varieties of tile we offer for flooring needs. Whether you just need to update the flooring in one room or throughout your whole home, our qualified experts can help!
Dracut Home Improvements
Frank Demore Painting offers many home improvement services in the Dracut, MA area. In addition to those listed here, we can help with drywall repair, popcorn ceiling removal, wallpaper removal, and many other home improvement projects. If you are looking for help with routine maintenance or are updating your home, contact us today!
If you need a professional Massachusetts painting contractor in Dracut, MA, please call Frank Demore Painting at 508-598-2424 or complete our online request form.