Expert Devens Painting Contractor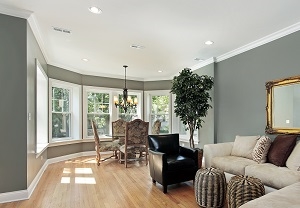 At Frank Demore Painting, we know that your house is an investment. You have invested time, money, and care into turning your property into a home to be proud of. However, maintaining that investment sometimes means taking on big projects, such as house painting, deck refinishing, power washing, and more. Whether you are looking for a professional Devens painting contractor or a home improvement specialist, our team has the knowledge and skill to help you turn your goals into reality. Every step of the way, we aim for 100% customer satisfaction. We offer the finest quality craftsmanship for any project, big or small, and our team is always committed to doing every job right the first time. If you have any of these or other Devens home improvement needs, contact us today.
Devens Interior and Exterior House Painting
Repainting the outside of your home can be overwhelming. From properly stripping the paint to selecting product and shade, to applying it correctly, there is no room for error with something as valuable as your home. The experts at Frank Demore Painting have over 20 years of experience with painting home exteriors. We use high-quality products to ensure that your home has a lasting and attractive appearance, and rely on tried and tested techniques to make sure that your freshly painted home looks flawless. The interior of your home is no less important, and our team is careful to protect your furniture, flooring, and belongings while painting your home. Whether you need your Devens home interior or exterior repainted, Frank Demore Painting would be delighted to serve you!
Devens Gutter Cleaning
Gutter cleaning can be an easy to chore to overlook. However, clogged gutters can lead to serious problems on your property. Pests love to nest in the damp leaves of a clogged gutter, and can spread from there into your home. Water pooling in your gutters can spill over and damage your roofline or your even your foundation. Whether you need your gutters cleaned as part of routine maintenance or you have gutters that have become clogged from neglect, our team is available to help!
Devens Wallpaper Removal
If you have wallpaper that no longer works with your décor, or if your wallpaper has become aged and unattractive over the years, you may choose to remove it. However, without the right tools and knowledge, removing wallpaper can be a frustrating and difficult task. In some cases, removing wallpaper can even lead to damaged drywall, leaving you worse off than when you started. Avoid all that hassle and call the professionals at Frank Demore Painting for stress-free wallpaper removal!
Devens Deck Refinishing
Your deck can be a wonderful place for your household to enjoy. From cookouts and family gatherings to lounging outside with a good book, your deck can function as a main living space in your home. However, because your deck is always subject to the outside elements, it needs to be protected. As your deck ages, the effects of regular exposure to sun, wind, and rain may start to show. Refinishing your deck is the best way to minimize those effects and to get the most longevity and value out of your deck. Refinishing your deck can be a complex process, from cleaning and sanding to staining and sealing, so rely on the experts here are Frank Demore Painting to promptly and professionally refinish your deck!
Devens Power Washing
Much like your deck, your home exterior and the surrounding property is always exposed to the elements. Wind and rain can leave dirt and debris on your home, driveway, and patios. Over time, the dirt builds up, making your home look dingy and dull. Power washing is a great solution to effectively remove any dirt and grime that has built up over time. Automatically brighten and refresh the appearance of your home by having your property professionally pressure washed today!
Devens Home Improvement
Frank Demore Painting offers a wide variety of home improvement services to the Devens, MA area. In addition to those listed above, we can help with drywall and cabinetry repair, popcorn ceiling removal, floor installations and more! If you are looking for professional help on your next home improvement project, contact us to get started!
If you need a professional Massachusetts painting contractor in Devens, MA, please call Frank Demore Painting at 508-598-2424 or complete our online request form.