Chestnut Hill, MA Painting Services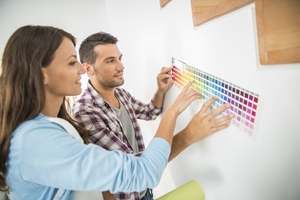 Are you ready to refresh the interior paint on your Chestnut Hill Home? Is the exterior paint showing signs such as fading or dulled paint, peeling paint, exposed areas of the woodwork, siding that's wearing down, or caulk that's peeling or missing?
If your home is showing any sign of these problems, it's important for you to have it repainted. Paint isn't only for aesthetic purposes but also acts as a seal to protect your home's more vulnerable building materials. When the exterior layer, the paint, has worn and the sealant or caulking is missing, these places aren't protecting the materials that get damaged from moisture. Plus, your home has vulnerable areas for insect infestation.
Our professional painting contractors can help you seal up the exterior and interior of your home again, ensuring you're building materials and all your assets are protected. Plus, you'll have a great new, fresh coat of high-quality paint that will last for decades to come!
Chestnut Hill Interior and Exterior Painting
If you're ready for some great curb appeal or to brighten up your home's interior, we have a lot of ideas for you! You'll have hundreds of colors to choose from and plenty of options in custom paint finishes if you so choose. Your Chestnut Hill home will be brightened and fresh looking again and well protected from damages that occur from moisture or other elements.
Our professional painting contractors are excellent at faux finishes, Venetian plasters, textures, and decorative painting, so you'll have many options in style to choose from as well. We'll help you get rid of that tired old look and give you something you can't wait to show off!
Professional Chestnut Hill House Painters
When it comes to quality workmanship and painting products, you can't find better than what we'll give you here at Frank Demore Painting. We've been providing expert painting services to Chestnut Hill from more than two and a half decades.
In fact, we've probably been your friends and neighbors reliable house painters at some point in time. We'd love to help you with a great new paint job for your home. Whether you're needing interior or exterior painting or any of our other great services, we're ready to help you!
Expert Drywall Repairs For Chestnut Hill Homes
Our Chestnut Hill professionals at Frank Demore Painting are fully skilled in handling all your drywall repairs. Whether you're needing your drywall fixed prior to painting or you're needing it repaired and the existing paint matched, we can help you get your walls looking great again with no flaws in the repair!
If you are looking for an expert painting contractor in Chestnut Hill, MA or the surrounding areas, then please call 508-598-2424 or complete our online request form.