Chelmsford, MA House Painting Contractors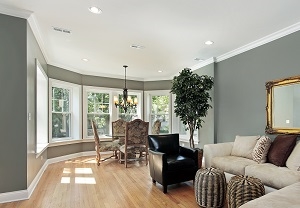 Has it been a while since your Chelmsford home has been refreshed with a new coat of paint? Is the finish on your interior or exterior wearing off or starting to peel away? If so, it's time to have our professional painting contractors at Frank Demore Painting give you a fresh, new look.
Your home is an important part of your life, and it needs to be protected with a good finish that seals it from moisture damages and other harmful elements. When it's not protected, your underlying building materials get exposed and start to degrade. Let us help you seal up your exterior and interior again with our long-lasting, high-quality paint!
Chelmsford Interior and Exterior Painting
Whether you're tired of your current paint colors or you're wanting something similar, we can help you find the right type and color of paint for your home's interior and exterior. Livening up the look of your home adds value to it and a gives you more curb appeal. When your home's paint starts to wear off, the color fades and you get a dull looking surface. Let us help you repaint your home and you'll have a lot to enjoy for years to come.
Professional Chelmsford House Painters
Our professional painters at Frank Demore Painting have been working in the Chelmsford area for more than two and a half decades. Many homeowners in the area have trusted us to provide them with high-quality painting, and we'd love the opportunity to help you as well.
Your home will look great when our professional painting contractors are finished with your painting project! For a pro you can trust, come to Frank Demore Painting!
Expert Drywall Repairs For Chelmsford Homes
Have you had problems finding drywall repair professionals in Chelmsford that do great work? Have you had to settle for bumps, lumps, and obvious mistakes that leave your drywall looking as if someone didn't know how to repair it right? If so, we understand how frustrating it is to hire someone to fix a problem yet you wind up getting some other problem in its place.
Our professional painting contractors are experts at drywall repairs because we've been doing it for more than 25 years, and that's a skill you can't fake. Either a contractor has had enough training and practice repairing drywall or they haven't yet. You'll never have to worry about our experience or whether we can give you professional results at Frank Demore Painting!
Whether you need drywall prep work done prior to repainting or you need your drywall repaired and only intend to match the existing paint over the repair, we're happy to help!
If you are looking for an expert painting contractor in Chelmsford, MA or the surrounding areas, then please call 508-598-2424 or complete our online request form.