Professional Boxborough Painting Contractors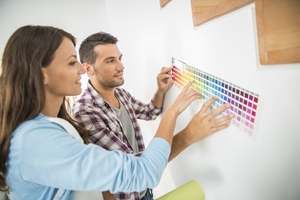 Our professional Boxborough painting contractors at Frank Demore Painting offer a variety of service to help you repair and improve your home.
If you need interior painting, exterior painting, or any type of specialty coating for your home, we'll be ready to make sure you get expert services from our skilled professionals.
Every painting project is different and unique. We offer flexible service that we can tailor to meet your needs. Small jobs, large jobs, or drywall and light carpentry repairs are no problem for our experts.
Give us a call today to ask any questions you have about the services we provide, or to schedule your appointment, and we'll be looking forward to working with you.
Boxborough Interior Painting
The paint on the walls in your home is a huge part of your interior design, and it contributes a lot to the look and feel of any room.
Our professionals will always make sure that your interior painting is as attractive possible, and we'll help you decide on the colors and textures that will best enhance and complement your Boxborough home's design, and help you create the atmosphere that you're looking to achieve. We'll make sure that you get high-quality interior painting services that you and your family can enjoy for years to come.
Our team of professionals uses only the highest quality painting materials, and we employ the most up-to-date methods so that we can always guarantee you're getting the highest quality craftsmanship available. The interior of your home is a very important part of your day-to-day life, so when we're hired to work on it, we take our responsibilities very seriously.
Boxborough Exterior Painting
The exterior of your home speaks volumes about you and your family. When it comes time to paint again and make a few carpentry repairs, call us. Frank Demore Painting wants to be your go-to team to call for all kinds of home improvement services.
We do repair woodwork and strip paint, so there are no worries there if the exterior needs a little work before painting. Ask about elastomeric exterior coatings for your home if you want the longest lasting exterior finish. They are wonderful for our Massachusetts climate.
If you are looking for an expert painting contractor in Billerica, MA or the surrounding areas, please call Frank Demore Painting at 508-598-2424 or complete our online request form.