Your Expert Billerica Painting Contractors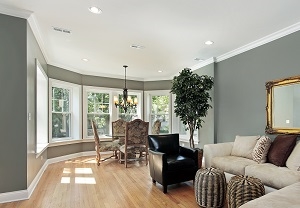 Whether you need a Billerica painting contractor for interior or exterior house painting, wood staining, or wallpaper removal, our experts at Frank Demore Painting would love to offer you a free estimate. We offer a full line of services including cabinet refinishing, popcorn removal, carpentry repairs, flooring installation, and so much more.
Our professional painters will be able to give you the best possible craftsmanship and excellent customer service. We'll work with you directly to plan the project so that we can tailor our services perfectly to your budget, goals, and time constraints. And we always guarantee your complete satisfaction with all of the work that we provide.
Give us a call today to ask any questions you have about the services we provide, or to schedule your appointment, and we'll be looking forward to working with you.
Billerica Interior Painting
One of the main priorities you have as home homeowner is making sure that your home is as attractive as possible, and our professional painting contractors can help make sure that's always the case.
Our professionals will work with you to decide on the best colors and textures to help you achieve the mood you're looking for in any room in your Billerica home, and we'll make sure that it's also a perfect match for the rest of your home's interior design and decoration.
We'll make sure that you receive high-quality interior painting that you and your family can enjoy for years to come. Our professionals use only the highest quality painting materials and the most up-to-date methods and procedures so that we can always guarantee you'll be receiving a job you'll be satisfied with.
Billerica Exterior Painting
When you need to have your house painted, it's very important that you get a quality job from a trusted professional. Exterior house painting is a crucial part of your Memphis home's curb appeal, and our professionals will do whatever it takes to make sure you get an attractive, high quality, and long-lasting paint job.
Every paint job should start on a properly prepared surface, so if there are any cracks or drywall problems, we repair them. You won't have to worry about wall or woodwork damage showing through later.
If you are looking for an expert painting contractor in Billerica, MA or the surrounding areas, please call Frank Demore Painting at 508-598-2424 or complete our online request form.