Looking For A Bedford Home Painting Contractor?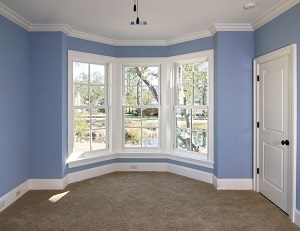 A great painting job is a crucial part of any home: it keeps the resale value up, keeps your home as attractive as possible, and it keeps you as comfortable as possible inside your home.
At Frank Demore Painting, our Bedford Painting Contractors understand that your home is an extremely important part of your life, and that's why we're committed to providing you with the highest quality painting services possible.
We also know that there's no more valuable commodity to our business that the Bedford homeowners we work with, so we also strive to provide premier quality customer service.
The services we offer are wide and varied, so whether you just need an accent wall painted, are having your home's exterior repainted, or you need specialty coating services, our professional painters will be able to give you the highest quality workmanship possible.
All of the projects we work on are planned in collaboration with our customers, so we're able to completely customize our services based on your goals, your budget, and your time frame. And at every job, we guarantee your complete satisfaction with our work.
Give us a call today to ask any questions you have about the services we provide, or to schedule your appointment, and we'll be looking forward to working with you.
Bedford Interior Painting
Your home's interior paint is a hugely important part of its design, and it contributes a great deal to the look and feel of any room. Our professionals will always make sure that your interior paint job is as attractive as possible, that it's an enhancement of your current interior design, and also that it helps you create the atmosphere you'd like to achieve in your Bedford home.
We'll do whatever it takes to make sure you receive a high quality interior paint job that you and your family will love and enjoy for years to come. Our professional painters use only the highest quality painting materials, and we stay completely up to date on state-of-the-art procedures, so we're always able to guarantee you the best possible paint job.
Your home's interior is an integral part of your day-to-day life, so when we're hired to work on it, we don't take our responsibilities lightly.
Bedford Exterior Painting
The first thing our professionals do at any exterior painting job is make sure that your Bedford home's walls are properly prepared to be receptive of a new coat of paint.
We'll remove as much grime, mold, and mildew as possible so that your new paint doesn't prematurely crack or peel. Then we'll take care of any cracks or deterioration, which can become very apparent with a new coat of paint. After that, we'll give you the highest quality exterior paint job possible.
If you are looking for an expert painting contractor in Bedford, MA or the surrounding areas, please call Frank Demore Painting at 508-598-2424 or complete our online request form.