Looking For Professional Painting Contractors In Ayer, MA?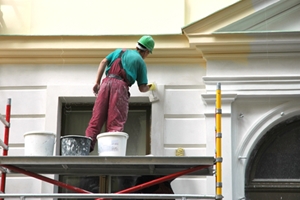 Whether you need a residential or commercial painting contractor in Ayer, Frank Demore Painting is ready to serve you. Home improvements that include painting can be quite involved. If you need someone to help you put the finishing touches on your design, call our team. We paint and stain, seal, and finish all types of surfaces. We also offer window cleaning, floor installations, popcorn removal, and drywall & carpentry repairs.
No matter what the architectural style of your home or commercial building is, our Ayer painting contractors can help you achieve a quality finish on the interior or exterior. We can strip and repaint old homes, refinish the cabinetry and woodwork, seal and stain your deck, and help you with some carpentry repairs.
For all around quality, choose our painting service in Ayer. Frank Demore Painting offers the highest quality services at competitive rates. We have been in the industry since 1998, so you can trust our expertise.
Ayer Interior Painting
Repainting your home or commercial building's interior gives you a great, fresh vibe to your space. Refreshing your decorative style with interior painting brings style and class to your interior which only serves to make you feel better about your home or office.
Today's paint manufacturers give you many options in quality paint colors that you'll love. At Frank Demore Painting, we offer affordable interior painting using quality paint from manufacturers you can count on like Sherwin Williams.
Ayer Exterior Painting
If you're getting ready for some holiday visiting, it's time to ensure your exterior looks great. Painting your exterior and protecting it with our painting services can be done now in time for the holidays.
Let us help you improve your home, add value to it, and make it beautiful on the outside once again with our professional exterior painting service.
Cabinet & Wood Staining For Ayer
Whether you have new cabinets or old, we can finish them for you to any type of finish or stain you would like. Wood cabinets are gorgeous and beautiful when freshly finished, so this service can really help you improve the look of your kitchen, commercial office, or bathrooms.
Cabinets or shelving can be stripped, stained, and finished to perfection by our professional painting contractors. Whatever type of stain you'd like, we can get it done for you.
If you need a professional Massachusetts painting contractor in Ayer, MA, please call Frank Demore Painting at 508-598-2424 or complete our online request form.