Interior Painting, Drywall and New Ceiling Fans in Worcester Ma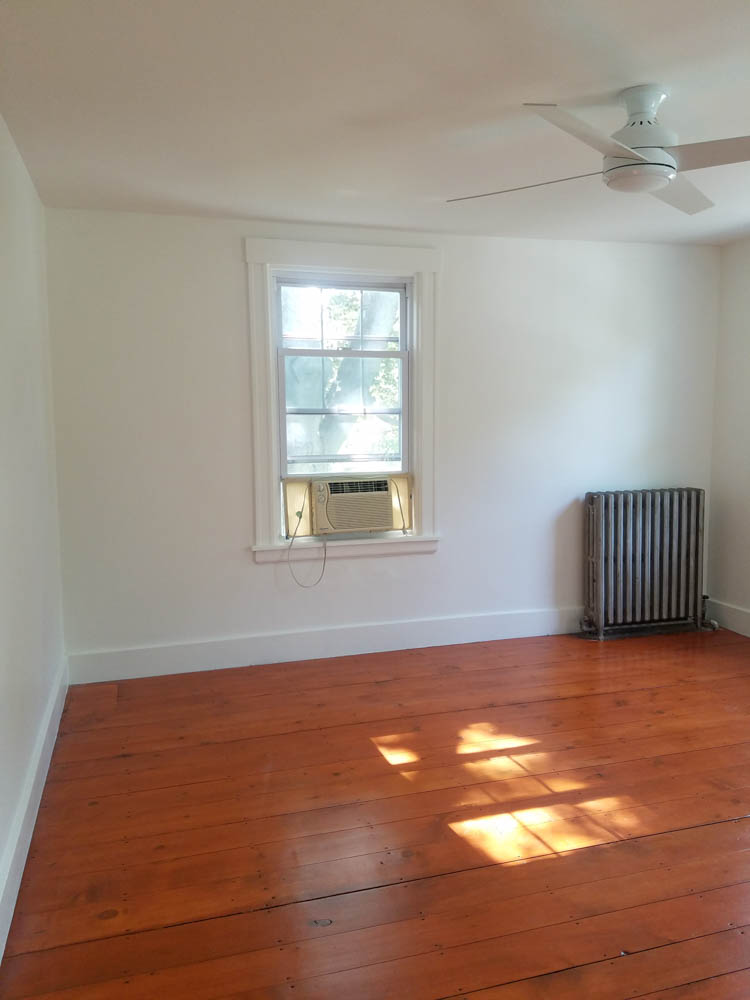 Our Worcester painting contractors decided that this job needed us to spray finish the ceilings and existing woodwork and some doors. So before we could prime and paint there was several days of preparation. The existing woodwork was all dark stain and the customer wanted the woodwork,ceilings and walls painted simply with white Benjamin Moore paint. When doing a stain conversion project our primary goal is to prepare all stained surfaces for proper adhesion and blocking out any tannin bleed. We do this by sanding, vacuuming and tacking all woodwork to be dust free and applying an oil stain blocking primer.
Our next step is to protect all surfaces that are not getting painted from sanding dust and paint overspray. We cover all floors with brown rosie paper. Then we remove any light fixtures from ceilings that are getting replaced and mask off tubs/vanities and fixtures. We then mask all windows and remove switch plates. Before removing doors we wrapped and hung drywall on guest bedroom ceiling. then we remove all hardware off doors & casings and number them so they get hung in there correct place. Then we strap the doors in a zig zag for spray. Once everything is covered and strapped we started sanding the entire home (sand ceilings,walls and woodwork) with our dustless system (all our sanding equipment is hooked up to heap vacuums removing 98% of all dust. Once sanding is done we vacuum ceilings,wall, and woodwork and tac surfaces down with deglosser removing the 2% of dust for maximum adhesion. when we are done deglossing we start oil priming right away. once house is primed & dry.
We then putty everywhere that is needed and sand-vacuum- tack once again making our surfaces dust free so we can caulk and the dynaflex caulking adheres properly. When caulking is complete and dry we cover doors with plastic and spray out our ceilings. once rooms unfog we spray two coats of Benjamin Moore regal select premium semi-gloss on woodwork and doors for a superior finish. Then we patch/sand walls and wipe them down dust free.
Finally the the interior painting job was ready for paint, we started with the walls that took two coats of Benjamin Moore Regal select eggshell wall paint. Once our walls were done we rehung all doors and hardware. We removed the four ceiling fans and install four remote controlled ceiling fans. Lastly we removed all rosi off floors and masking off windows and disposed of all trash.
Worcester Ma Interior Painting, Drywall and New Ceiling Fans Photos
If you need a professional Worcester painting contractor for Interior Painting, Drywall and New Ceiling Fans, please call Frank Demore Painting at 508-598-2424 or complete our online request form.