Repainting an Old Home's Interior in Providence, Rhode Island, MA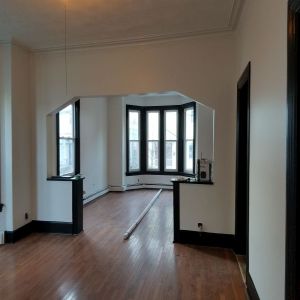 Our Massachusetts painting contractors at Frank Demore Painting were honored to work on this beautiful older home in Providence, Rhode Island. As you can see, when we work on a project, we make sure everything is covered and protected first. We often find when working on older or historical homes that there's plenty going on underneath the old paneling. It was no different in this case as we found a couple of layers of old wallpaper under the paneling. We got that stripped off well and all the glue cleaned off. Then we found we needed to do a little plaster repair.
Come to find out that there was some previous prep work done wrong on the casing where someone painted over oil based paint but didn't sand, degloss, or prime. So we scraped that defective area down and did it right. Take a look below at the details of this home painting project. It was a lot of work, but well worth the amazing results. You'll always get more with Demore!
1. All floors got covered with rosin paper
2. All Windows and cabinets covered with plastic protecting from dust and paint
3. Remove all paneling
4. Dispose of paneling
5. Strip 2 layers of wallpaper
6. Wash all glue off walls
7. Remove all damaged horsehair plaster
8. Remove bricks around casing
9. Remove old damaged doors/woodwork/casing/baseboard etc. Where needed
10. Hang drywall where old damaged horse hair plaster was removed
11. Sand all walls and woodwork
12. Apply two coats of bonding adhesive on wall before skim coating.
13. Hang corner beads
14. Hang inside corners with metal/paper tape
15. Fill all deep holes with 45 min durabond compound.
16. Apply three coats of compound on walls
17. Sand and tack walls dust free
18. Scrape off paint on casing where existing prep was done wrong (someone painted over oil base paint without sand, de-glossing, priming)
19. Prime walls, ceilings and all woodwork
20. Putty where needed then Sand all surfaces vacuum and wipe dust free
21. Sand patched areas and spot prime
22. Apply two coats of Sherwin Williams eminence premium paint on ceilings
23. Apply 3 coats of Sherwin Williams Duration home black semi-gloss on all doors, casings and baseboards
24. Apply two coats of Sherwin Williams Duration home satin on walls
If you need a professional Providence painting contractor for interior house painting services, please call Frank Demore Painting at 508-598-2424 or complete our online request form.