Harvard Ma 01451 Room Remodel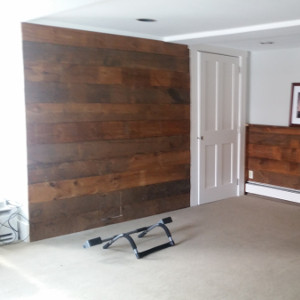 There's a reason why we say, 'You get more with Demore.' Each job we do gets the same careful attention to detail and thorough treatment. We take pride in providing our customers with full-service work when it comes time to repaint and remodel a room or entire home. We cut no corners and make sure everything is done to the highest standard, creating long-lasting value, beauty, and functionality. Before starting any work, we put carpet shield down on the rug. Then we removed all shelving and power sanded all the walls so they were smooth by removing built up paint that was on the walls. During this step we also repaired a hole in ceiling and repaired some peeled up drywall, which we then backed with oil primer and sanded it smooth before patching it with a compound. Next we patched and added skim coat so it was all smooth, and repaired all imperfections on woodwork. Continuing, we framed a wall around the fireplace, and then framed in a closet and a door frame. We also built a custom closet with shelving. Then we installed the door and casing. Next, we sanded and tacked (dust-free) and primed the ceiling, walls and woodwork in the whole room with Benjamin Moore Fresh Start Primer, and puttied and caulked the custom closet as well as the whole room. Now we added two coats of Benjamin Moore Flat Regal Select on the ceilings, followed by two coats of Benjamin Moore Advanced Semi-Gloss Select on all the window, doors, casings, and baseboards etc... Still not finished, we applied two coats of Benjamin Moore Regal Select Eggshell on walls (Grey Owl). Additionally we installed Shiplap Wainscoting on the wall where the TV will be mounted, and just on the right-hand side of room. Finishing up, we installed the door hardware and cleaned the room.
If you need a professional Hudson painting contractor for a project like fixing water stains on ceilings, please call Frank Demore Painting at 508-598-2424 or complete our online request form.